Sep 8, 2021 04:13 PM Central
La Sheonda Sanchez
Being from South Texas, we eat lots of Mexican and Tex-Mex cuisine. A perennial favorite is chicken fajitas. We love to do a big batch and share with friends. There are lots of variations on the toppings as well as the sides to serve with your chicken fajitas that are all great. We love to grill our chicken outside on the grill, but we cannot do that during some parts of the year due to the weather. Preparing your fajitas on a sheet pan is a great way to enjoy this treat year-round, and not just when you can get outside and prepare them on the grill. We love to serve ours with ALL the fixin's!
Sheet Pan Chicken Fajitas
Fajitas:
1 lb chicken breast
1 lb chicken thighs
2 green bell peppers
1 orange pepper
1 red pepper
1 red onion
For the marinade:
3T extra virgin olive oil
1 lime, juice and zest
1 lemon, juice and zest
1/2 T sugar
1T salt
1T cumin
1/2T garlic
1/4 cup water
1/2T chili powder
1/2T onion powder
1/2T paprika
1/2T pepper
Slice vegetables into strips, trying to get onions and pepper strips to be about the same size. Slice chicken into strips. Keep the vegetables and chicken in separate bowls. Mix marinade in a bowl and then pour over vegetables and chicken. Marinate chicken and vegetables in the refrigerator separately, from one to eight hours. Remove chicken and vegetables from the fridge. Cover your sheet pan in aluminum foil and preheat the oven to 400 degrees Fahrenheit. Arrange vegetables on the sheet pan in one layer. Layer chicken over the vegetables on the sheet pan. Place into the oven for forty minutes. Remove from oven and allow to cool for about five minutes. Serve on tortillas with avocado, sour cream, grated cheese, salsa, and pico de gallo. We love to have beans and rice as the side for our chicken fajitas. I'll share my cilantro lime rice with you so you can try that with your chicken fajitas.
Here's
a link for you to watch a video on how to make these chicken fajitas, along with the cilantro lime rice and a yogurt lime cake, too! Once you watch, leave me a comment and let me know what you think. I love hearing from you!
Mar 6, 2021 12:36 PM Central
La Sheonda Sanchez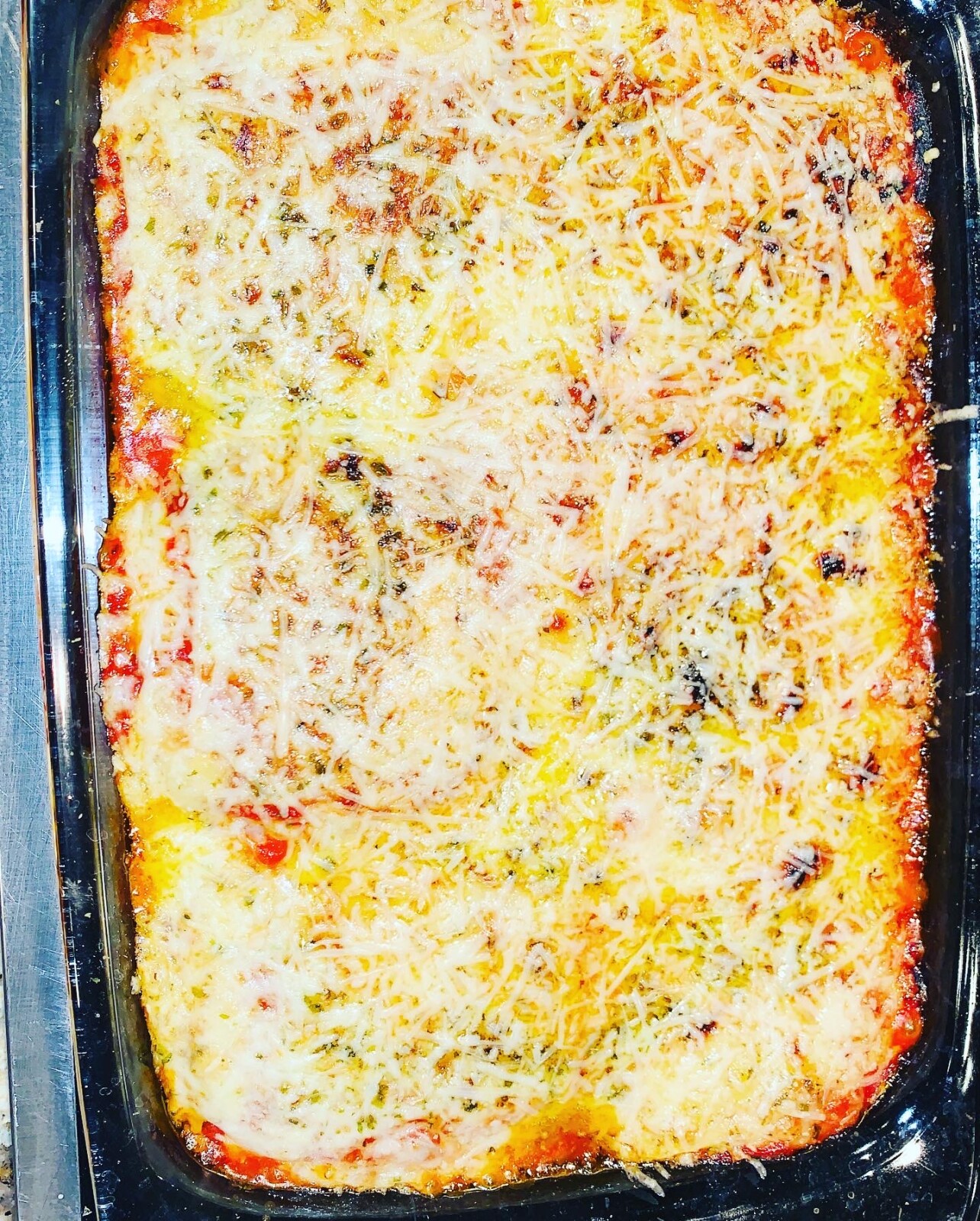 Low Carb Eggplant Parmesan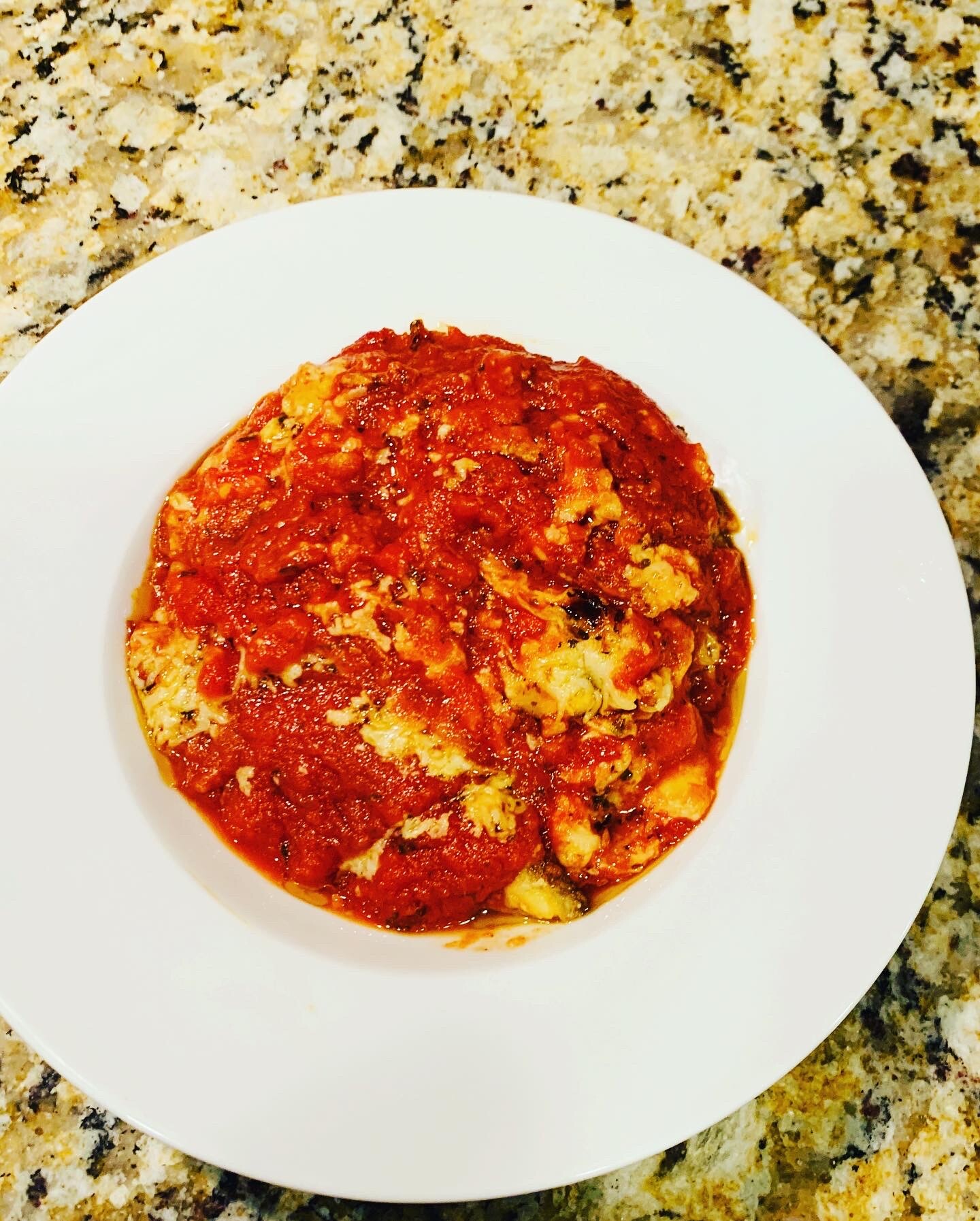 I said for years that I do not like eggplant. But then I tried it cooked correctly. And now I am hooked.
Eggplant Parmesan is DELICIOUS! If you think you don't like it, then you probably have not tried it. I was looking for a lower carb version of this amazing classic. So I decided to make up a recipe myself. The biggest change is the dredge used to bread the eggplant slices.
Start with an eggplant, and cut into rounds. I like these better than cutting the eggplant the long way. It makes the eggplant easier to bread and cook and even eat.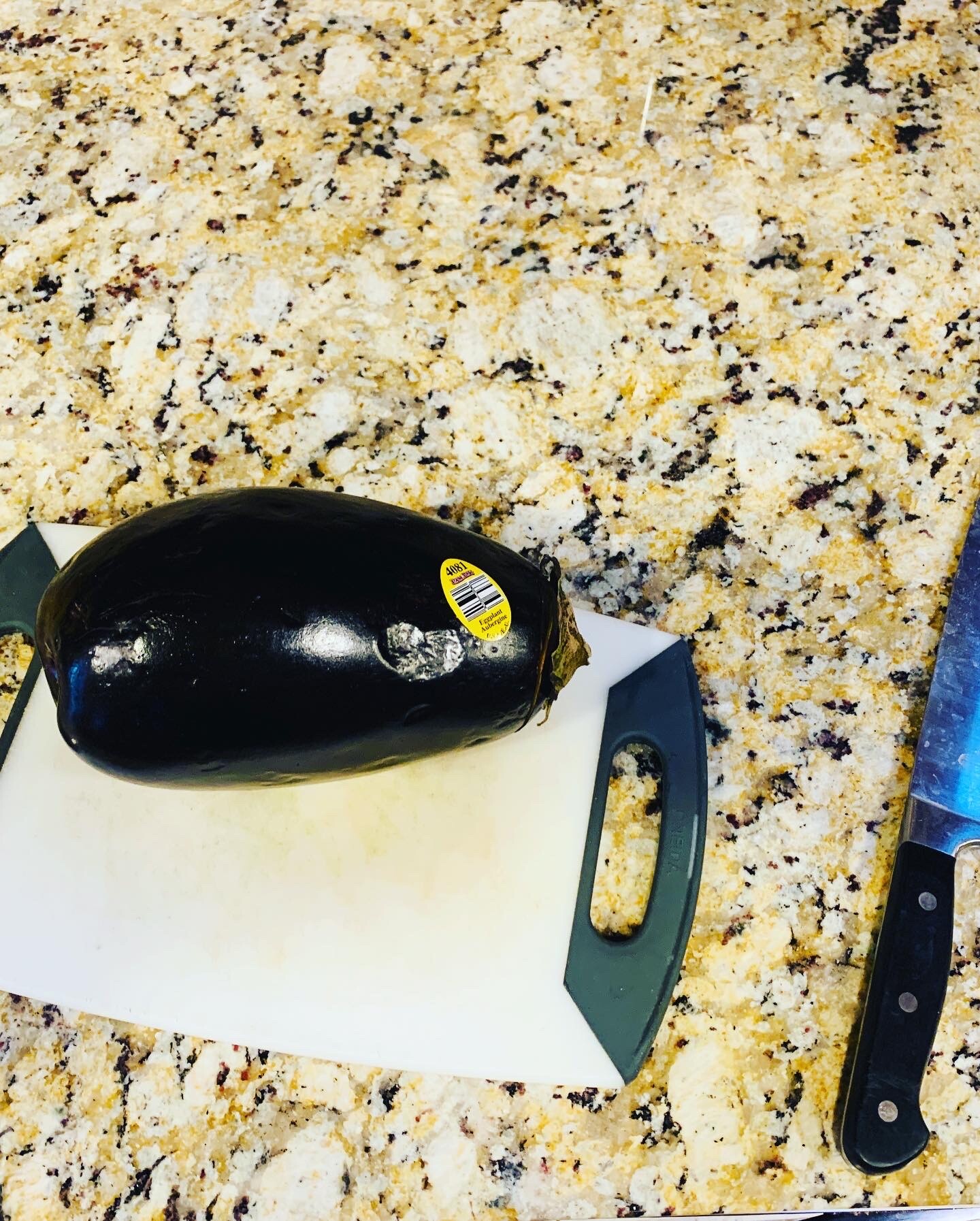 Set up your breading station. I used coconut flour, beaten eggs, and pork Panko (ground up pork rinds) mixed with Parmesan cheese and Italian seasoning. Dip the slices of eggplant into the coconut flour, then into the beaten eggs, and lastly into the pork Panko mixture.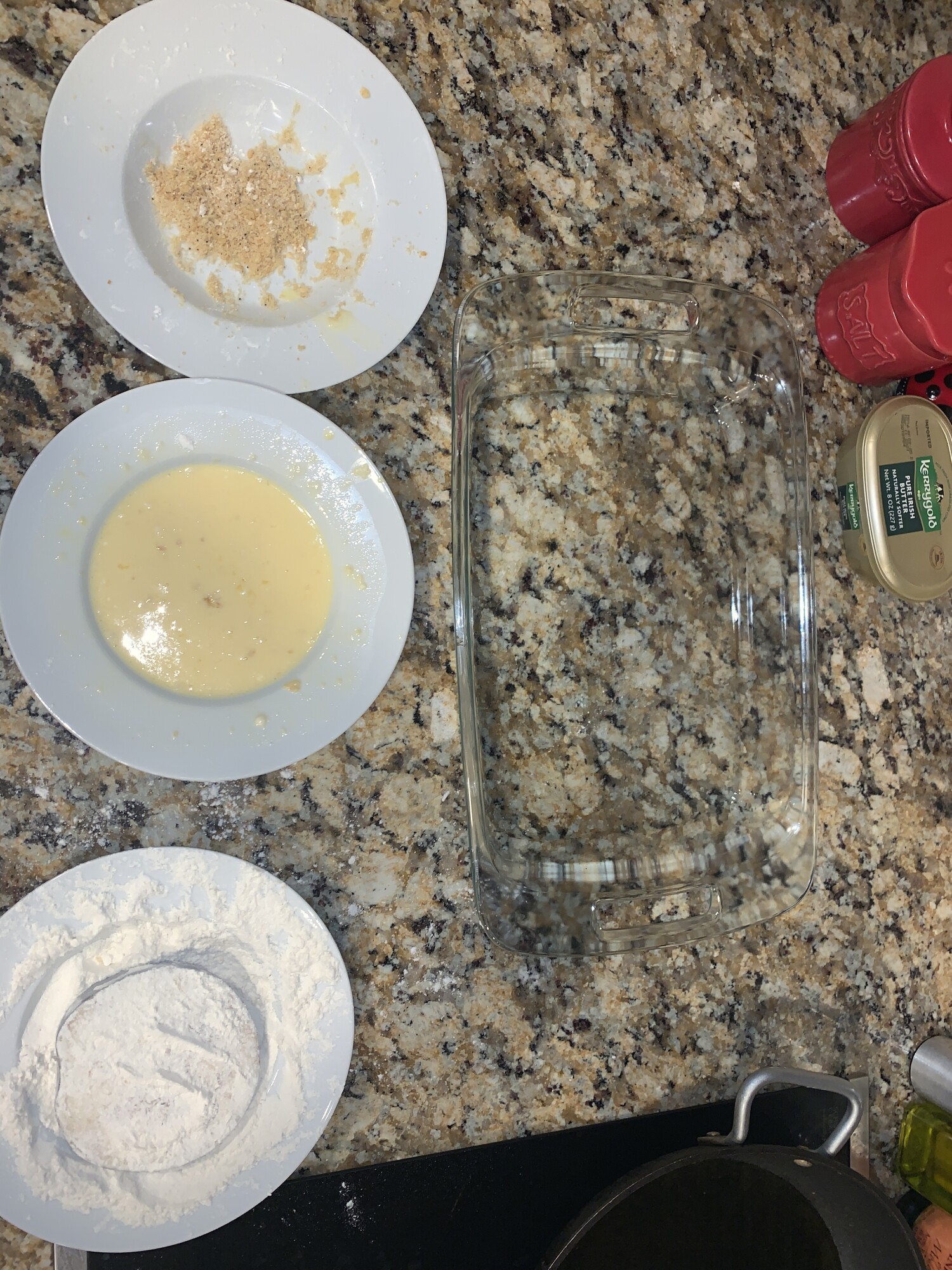 Line a baking sheet with parchment (or foil sprayed with olive oil) and then place your breaded eggplant onto the baking dish. Roast the eggplant in a preheated 400 degree oven for about 30 minutes.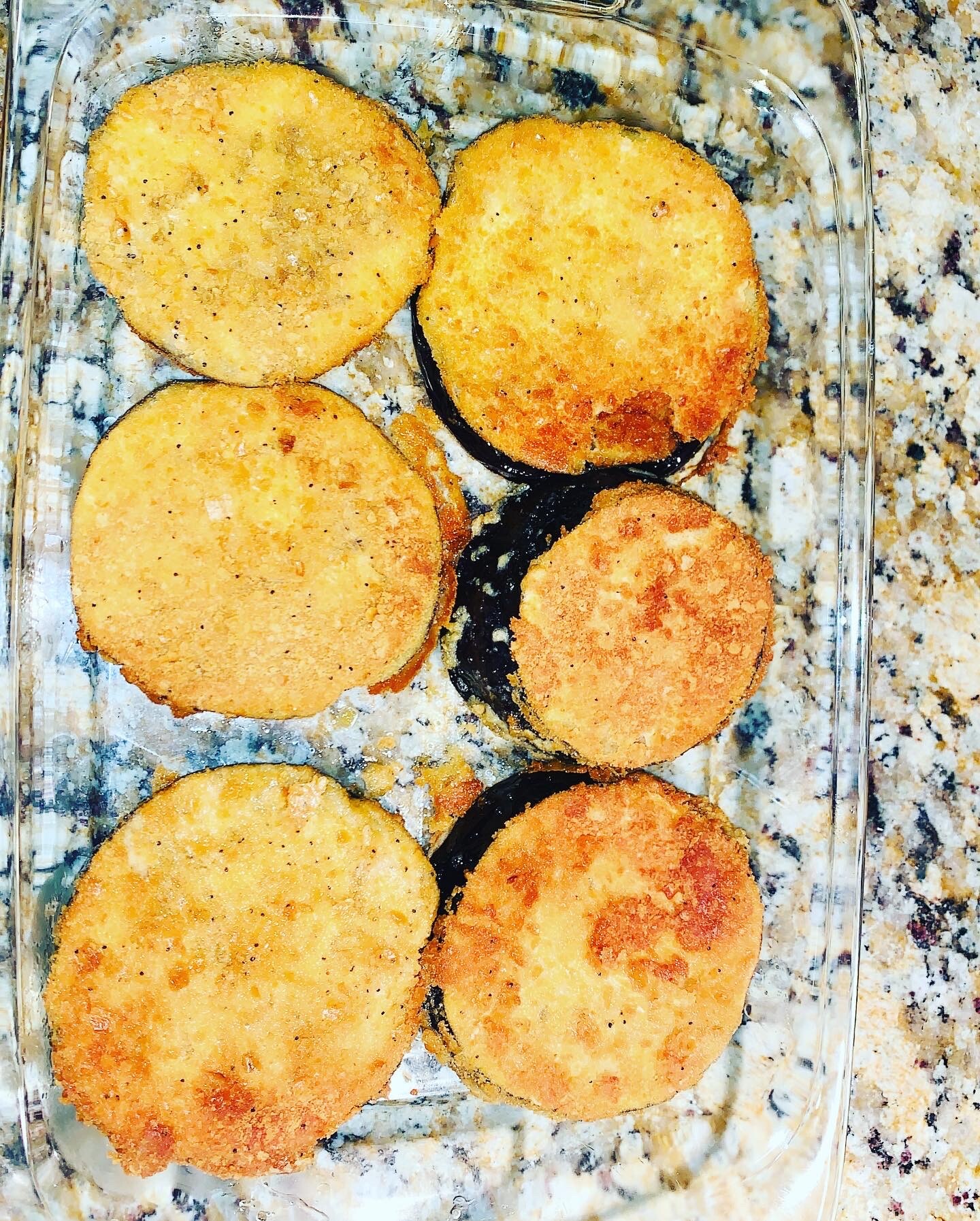 Once the eggplant comes out of the oven, layer 1/2 cup of marinara sauce in the bottom of a casserole dish. Next, add a layer of eggplant slices. Top those with 3/4 cup more marinara ( I like to make my own), half of the mozzarella cheese, then repeat layers. Top with Parmesan cheese and bake at 400 degrees for 15-20 minutes. Garnish with more Parmesan and fresh basil.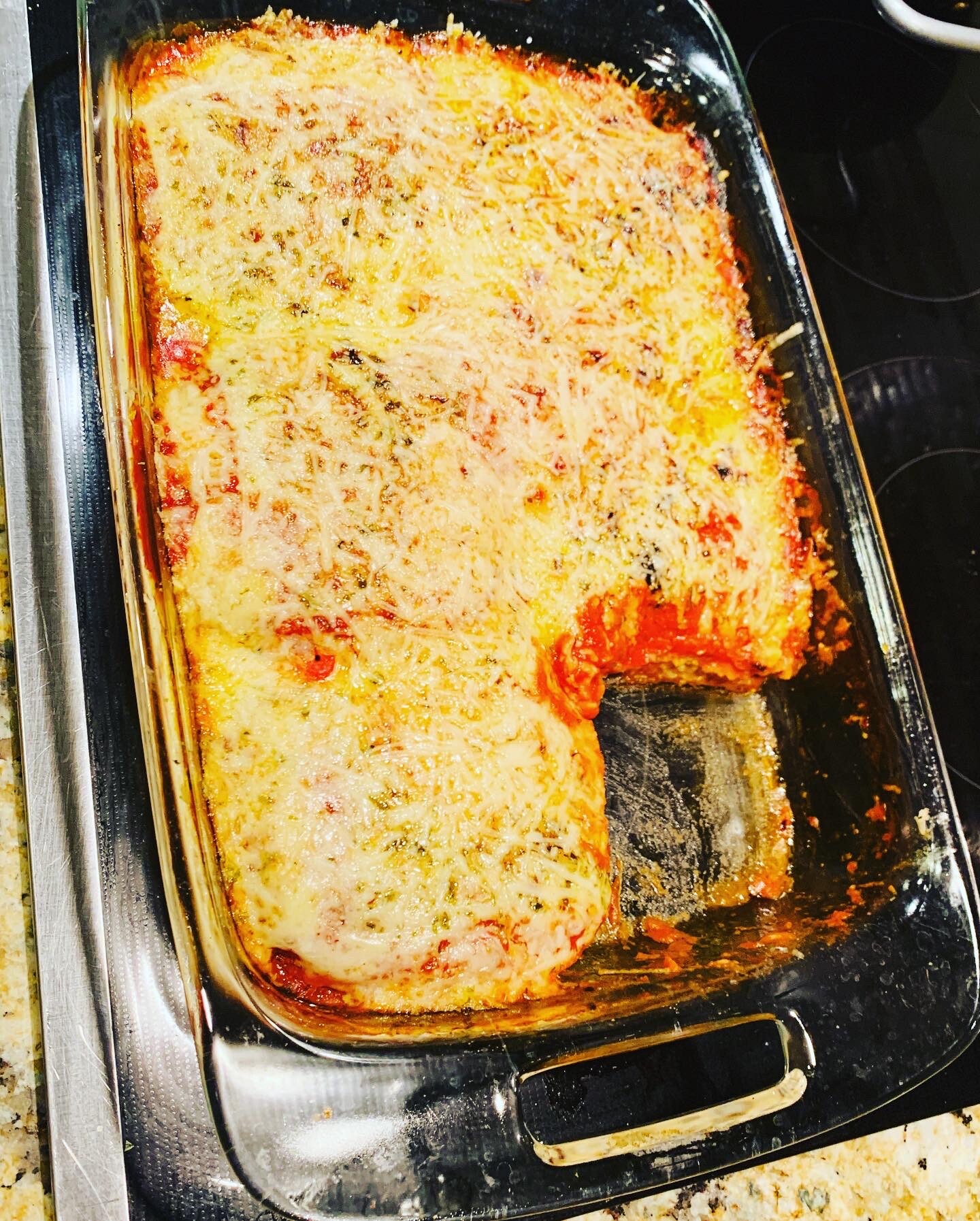 We like to serve this with a chicken breast or other protein, because while this dish is low in carbohydrates, it does not pack enough of a protein punch for us.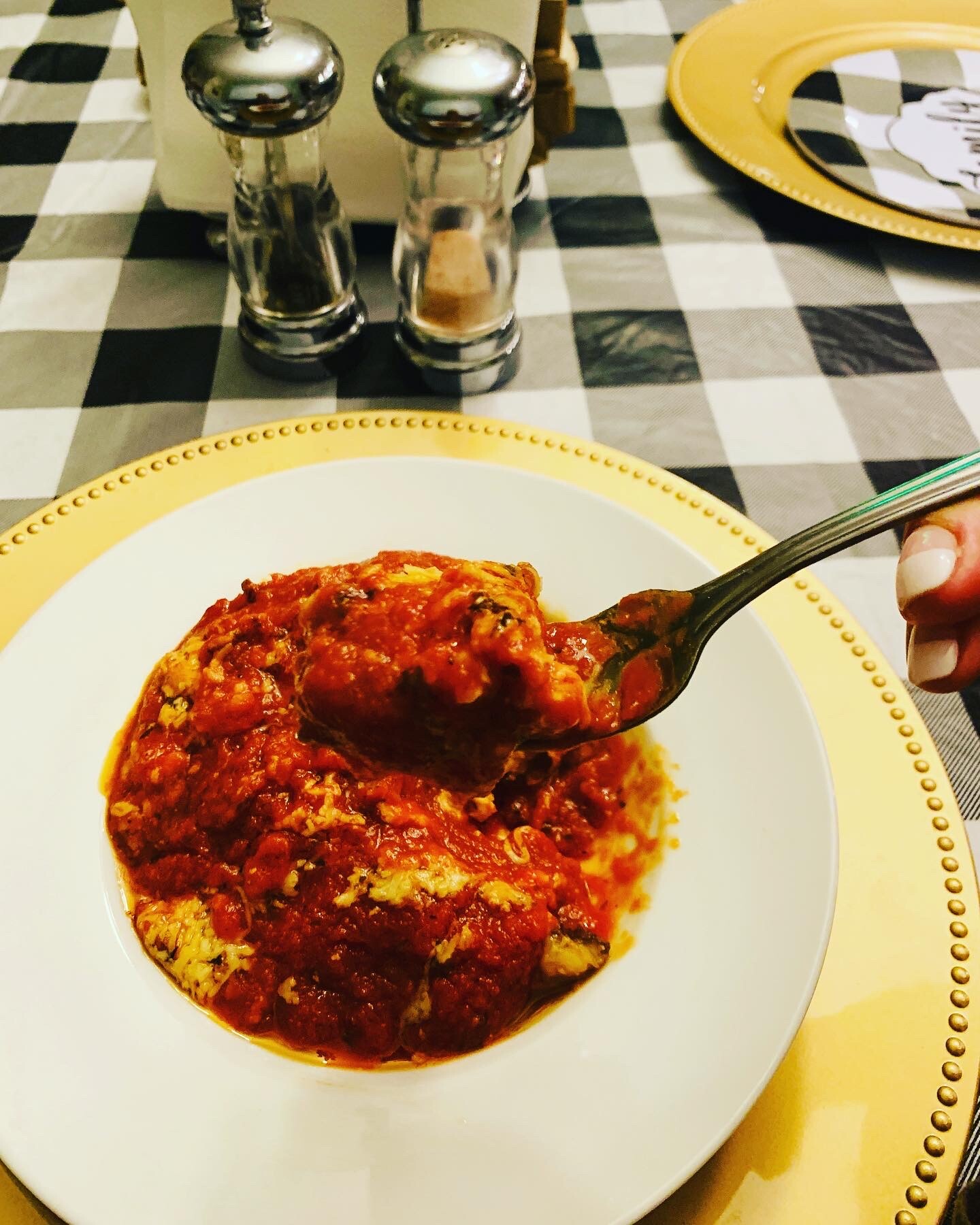 Low Carb Eggplant Parmesan
Ingredients
2

eggplant

2-3

eggs

2-3

cups

pork panko

1-2 cups almond flour

Italian seasoning

1 cup Parmesan cheese (plus more for garnish)

3

cups

marinara

sauce

1

pound

shredded

mozzarella cheese

fresh basil

Instructions

Preheat oven to 400° F.

Slice eggplant into rounds discs.

Beat 2 eggs. You may not need all three, so beat more as you need them.

Mix Pork panko with Parmesan cheese and Italian seasoning. Salt and pepper to taste, but the cheese is already salty by itself.

Dip into almond flour, egg, then "bread" crumbs. Then roast in preheated oven for about 30 minutes.

Put ½ cup marinara sauce in bottom of baking dish.

Layer eggplant slices with ¾ cup sauce and half of the mozzarella cheese. Repeat layers and top with Parmesan.

Bake until cheese is completely melted and slightly golden brown. Allow to rest 10 minutes before cutting. Garnish with more Parmesan cheese and fresh basil.

Once you have tried this, leave a comment below with how you like it. And share your favorite recipe for a delicious, easy meal for you and your family!